Collective Soul "Shine" Cover, And We Moved Again.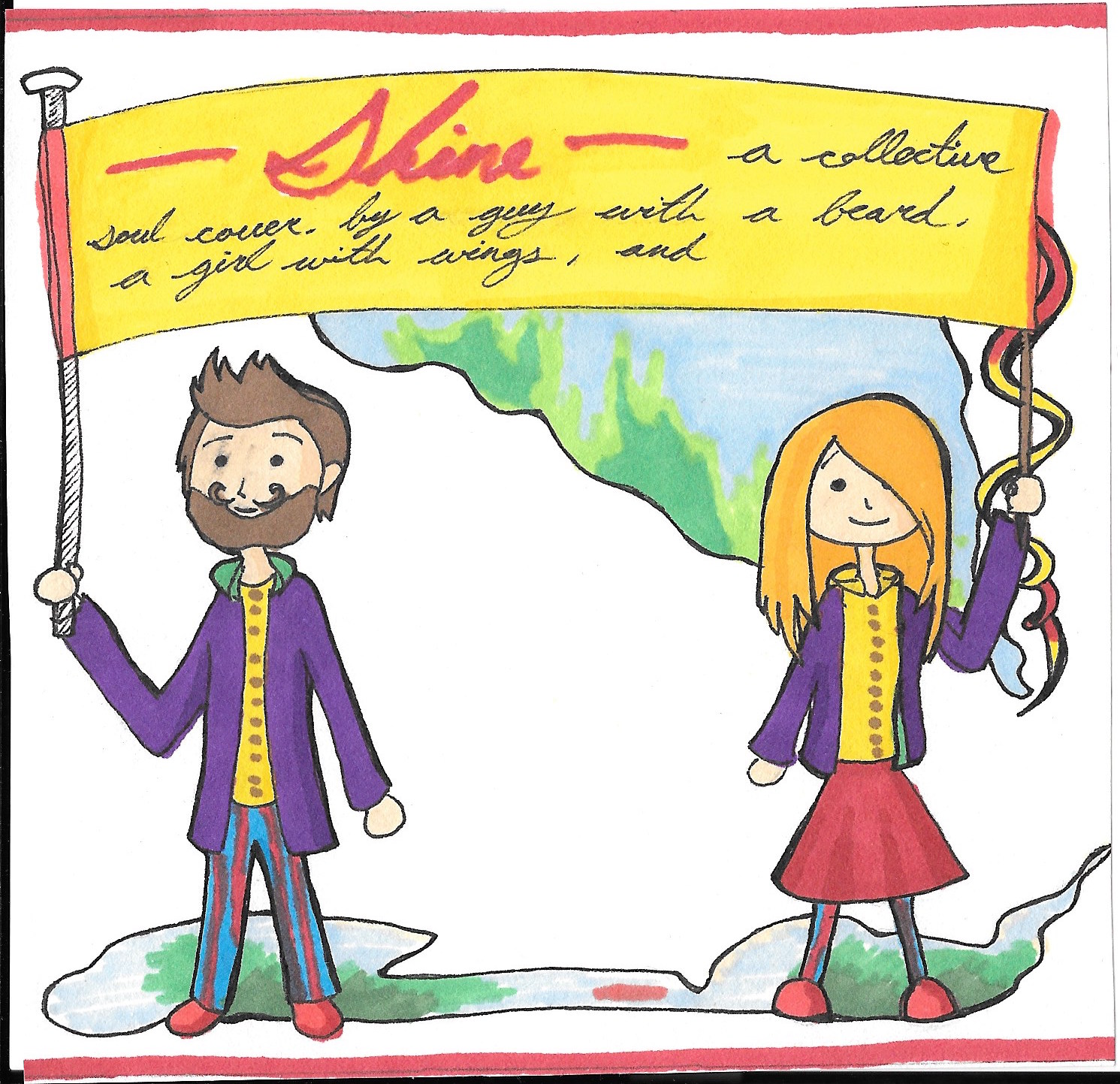 Hey guys, C & Z here. We've been meaning to release this song since January, but hey-- we moved, things changed, life's been busy, but good, but busy, and this song had to wait three more months ever so patiently. 
Back at Christmas, Colton and I decided to cover a Collective Soul song called, "Shine" for my dad, as he had said earlier on in the year that it was his favorite song. So, we did, and we recorded it, and mixed it and composed and all that fun stuff, in order to get it to him by Christmas time.
Holy cow. He loved it. So much. I don't think I can emphasize that enough-- but he darn did, and we were so glad about it. Hopefully, you'll be able to share in his joy, too, at listening to it. 
As far as the illustrations for the cover design above-- if you look at the original Collective Soul album "Shine" was on, you might see the hints and silly things we threw in. 
And moving! So, back in January, we were also offered some jobs up at Hume Lake Christian Camps, and we couldn't say no. They were not only too fantastic, but we had friends already doing life there, and duh-- the mountains and forests and lake. So February 23rd, we moved, Colton and me. It's been, again, more adapting and new life-ing, but it's been really fun and fantastic-- and yes, music is definitely still happening, as we drive back every weekend to practice with the band for a conference in June (15 songs, ya'll), and I am finishing up a song I've been working on since November (along with that album I keep taunting about-- it's taking me forever, guys. I have too many things I like to do, and so my time gets split up between them all. Did I mention I was writing a book, too? Yeah. I'm writing a book, too. Please don't hate me). Writing new songs with the band, and with Colton, and with a few of our new friends up at Hume (as there's a plethora of musicians hanging out up here). 
So that's where we're at now, and what we're doing. We're enjoying it. And yes, new music. It's happening. Sometimes. At really slow lengths. But it is happening.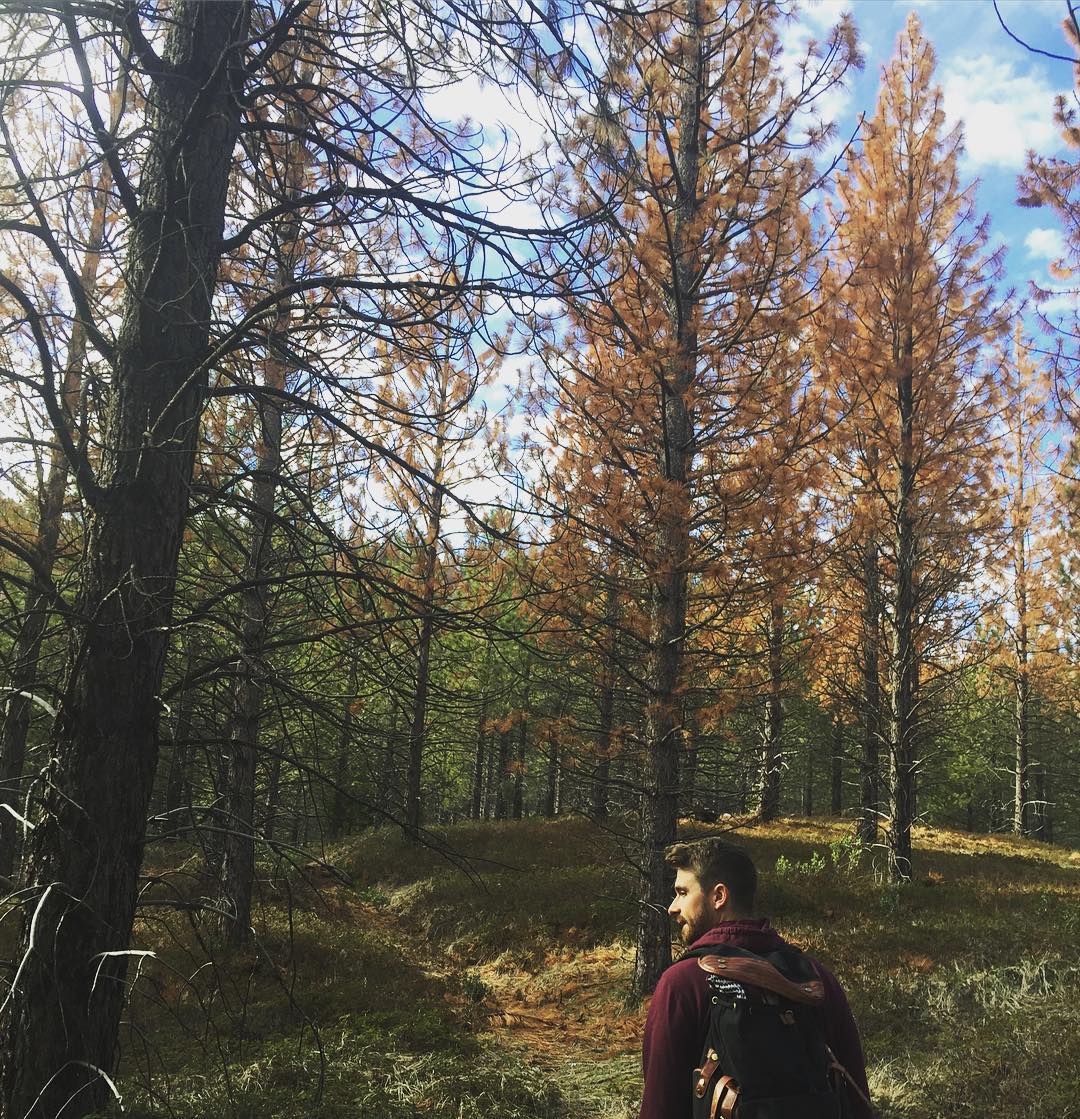 Heritage EP Release, November 2015
Howdy, folks, Z here. Happy November, winter, and all the awesome holidays that occur this time of year from C & Z and band-family! So, as it is, we've been here in Cali almost three months, and have been able to work on the musical stuff a lot, which has been awesome. Not any touring or shows planned out quite yet (though we are getting some Christmas show requests coming in), but it has meant a bit of songwriting, recording, composing, and sharing has been going on.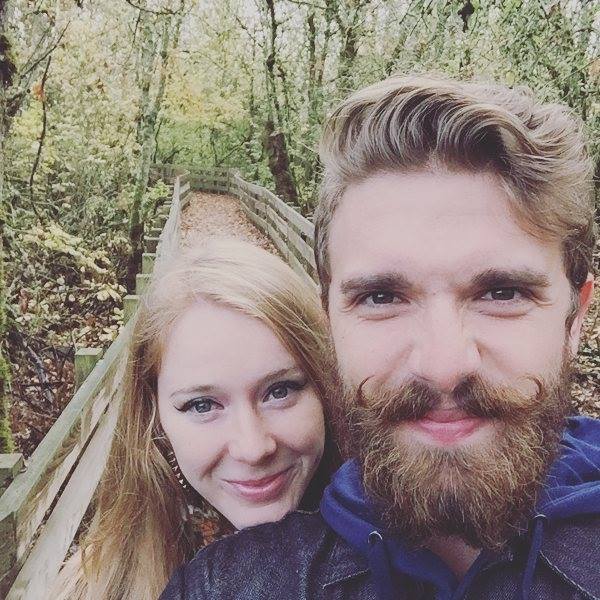 (Here's our goofy faces in Oregon, visiting fam and friends and adventuring the "rainy English autumn countryside".)
With that said, above here is the EP we've been mentioning since May: this is an album based off of some people in our lives who have encouraged and supported us along the way with music (though it's not even a fraction of all of you who have been supportive towards us; oh no, we are fully aware how much you have done for us, cared about us, encouraged us, prayed for us, etc., and we gratefully, joyfully hope to repay you with more songs and music and other artsy things for you to enjoy). It contains favorite covers of theirs, and a few adventurings of our own originals, as we dallied with writing songs exclusively FOR people (and with ourselves also learning the ropes of composing, recording, mixing and engineering on our owns, to further our creativity). 
So, with that said, our current main plans still revolve around work and settling in, but nonetheless, Colton's been songwriting, mixing, and learning trumpet,  and I've been composing/songwriting new music, recording my own full album (halfway through!), sharing art (if you're interested, it's on my own Facebook currently under albums), and writing a book. Annnd, of course, the performers in us are starting to itch for a few shows and touring-- but, one thing at a time, we remind ourselves. 
For those we made this music for: 
Heritage-- for my grandma Bonnie
My Sister and Me-- for Stevie Schrag (Colton's sister)
Mummer's Dance-- for my dad
I Wonder As I Wander-- for my mom
Drops of Jupiter-- for our friend, Dominick Farone
We hope you enjoy this little EP! 
Yours, C&Z  
New State, and Some New Music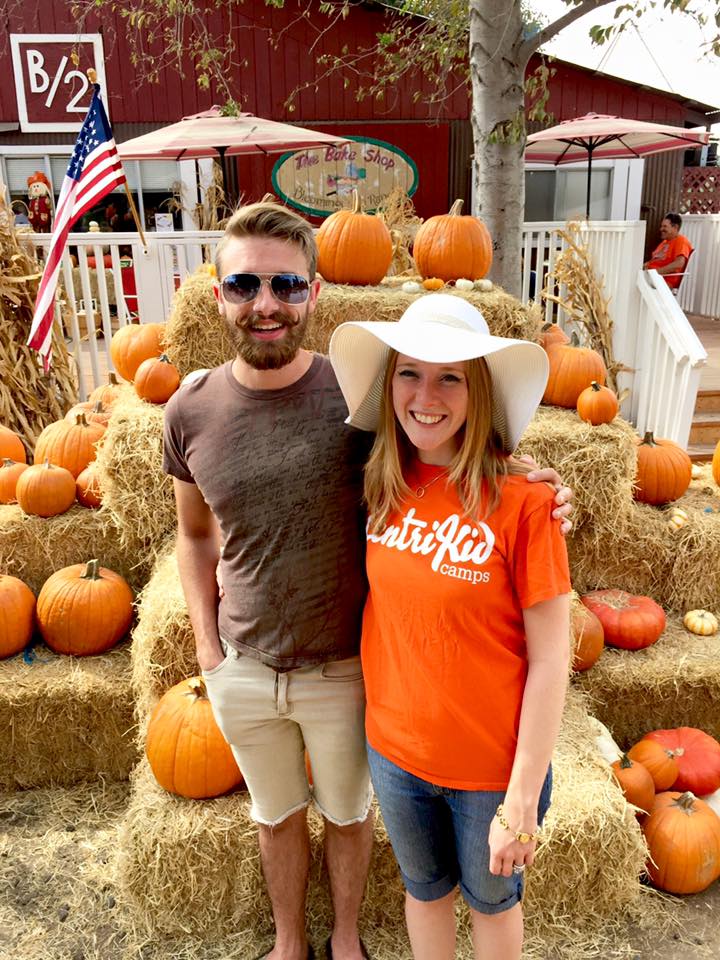 Well, here we are—it's been exactly a month since we arrived into our new house and new life in California. So far, it's been really exciting and adventurous: we love our new house, our new neighborhood, and the town (it's a quirky lil' thing—quite lovable). At this point, we're pretty much all settled in. It's been fun all living together again (whole band fam, back in biz!), and while we've been here, we've already been working on quite a bit of music stuff. Not so much in shows currently—not till we are a little more settled, but definitely in recording, composing and songwriting. 
This batch of songs were some of the ones from earlier this year, and a few new ones thrown in there from over the summer (but weren't released till after some birthdays happened). The whole of the EP was written for some of those people in our lives who have affected us and affected our music, so we thought we'd return some of the encouragement they've shown us with a few songs (which feels like nothing in comparison to all they've given us). 
Hope you enjoy! :) 
We Are Moving!!!
It's official: the band-fam is moving to California. So we thought we'd answer a few questions that have been asked.
-Why are we moving?: The manly men in the band (Colton, Darren, Dustin, and Colton/Dustin's dad, Steve) were all offered jobs out in California back in January that required a bit of training and schooling, but in the end would be the kind of job that would help our whole family/band to better accomplish the goals and future that it's working towards. 
-What's the job?: It's called Corrosion Inspection. Basically, they will be inspecting coatings of metal, steel, concrete, etc., to analyze what needs to happen with it as far as painting and coating goes. It's kind of an obscure job. They say it feels "science-ey", which they're pleased with. 
-How long will we be there for?: This current job in Cali is a 1-2 year job.
-What's music going to look like?: Hopefully, it's going to look really prolific! This job is of the kind that, once the guys get settled into it, the job will give us the ability to make our own schedules, tour together with all our family (without having to worry about the funds part too much), and make better merch to sell. Once we get to Cali, we will set up our studio there again, and get back to working on new music. Colton's been eating away at finishing the album we started last year, and Zara has a couple songs to release once there, along with finishing her practicing on the recording/engineering/mastering stuff. They also have been talking a lot about starting from scratch with newer songs together, going for some different types of music (mua ha ha ha), and playing a LOT more shows (they're missing the performing a ton). Also hoping to possibly work with a few other bands out there in California. 
-Other plans and goals?: Colton and Zara are hoping and planning on starting the child adoption process once they arrive there. As mentioned above-- touring. Hoping to get back to touring, and making cool merch for you, and new music and maybe some more music videos. 
We're sad to leave our hometown of Independence, KS, but are hoping we'll be back soon, and get to be with all our fantastic family and friends here. They've been beyond amazing, and life is so sweet and wonderful because of them. 
Christmas Tour, Baby Celebration, Holiday Break, New Projects!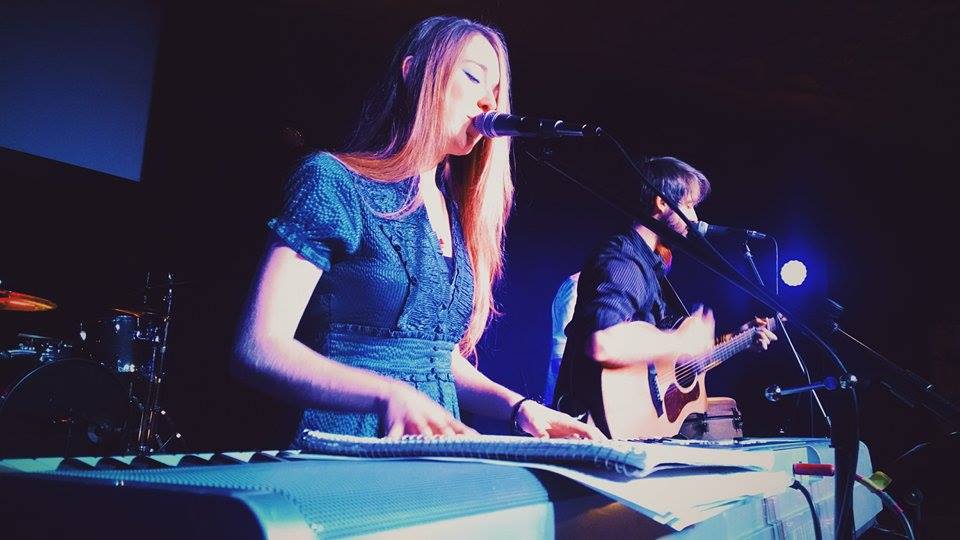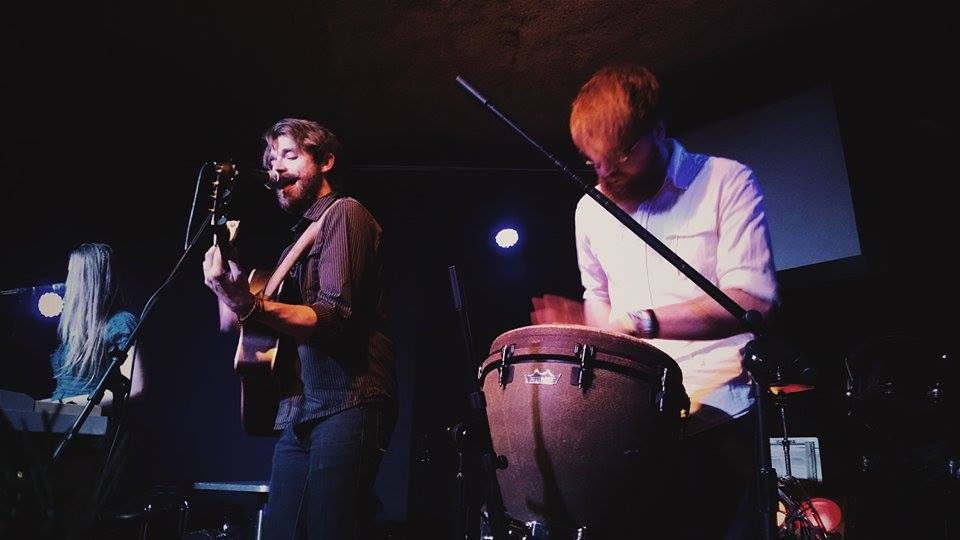 Photos courtesy of Luke Dewitt of pop rock band
Of Course Not
  at the Salvage Yard in Joplin, MO, for the Acoustic Midwest Christmas Tour. 
Only one more
Christmas show
is left for Murmuration, and then they are taking a break to celebrate the arrival of Stevie and Darren's son, Hadden, along with spending time with family and friends for the holidays. 
They are currently also working on projects to be announced very soon! 
Merry Christmas and Happy New Year,
From Murmuration and Of Course Not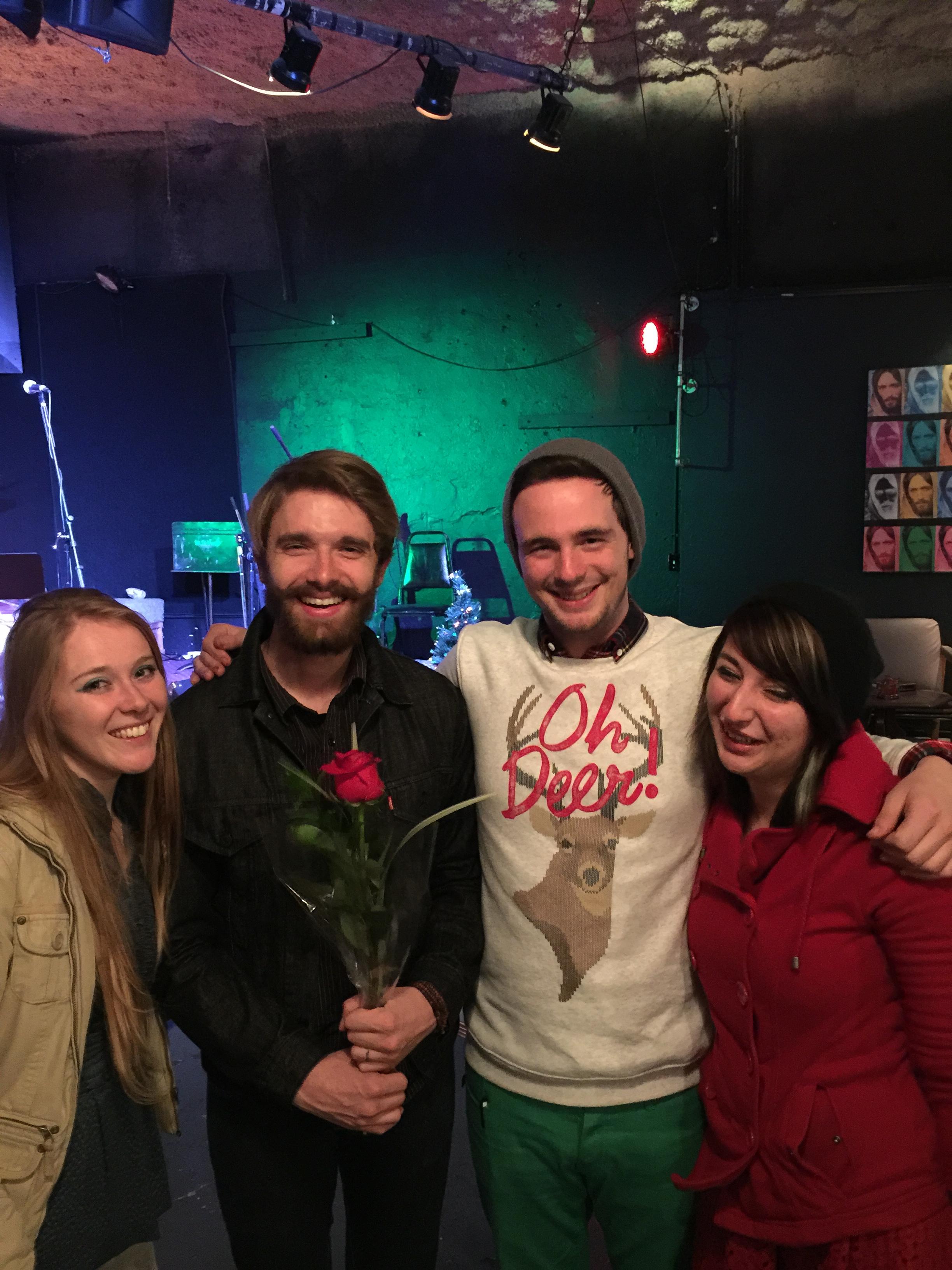 Murmuration Sponsored by Heir Audio
Murmuration recently became sponsored by in-ear monitor company, Heir Audio. Murmuration wrote up what they thought about these nifty, helpful, and super amazing in-ear headphones: 
"I love my 8.0 Heir Audio in ear monitors! For years I would struggle as a singer to hear my harmonies on stage with regular stage wedges. Now that we have stepped up into in ear monitor systems it has made a world of difference for the better; Having the ability to hear just what I want to hear at the levels I want to hear them is AMAZING. I honestly don't have anything bad to say about Heir Audio so here's everything that's great about them! I use the IEM 8.0 They are well crafted, professionally branded, and put out high quality sound through eight, yes eight fine tuned drivers!
I can hear the full frequency spectrum clearly with no question of who in the band is making what sound which is super important in a seven member band. It has helped me to not strain my vocals while singing as well. I used to unconsciously sing louder on stage while performing to try and hear over the band noise which would leave my voice raw and hurt after shows, but now there is no such problem to be had! I am so grateful to Heir Audio for these IEMs, they practically saved my voice! Superb quality construction, Heir Audio put thought into their product. The cables are braided to avoid tangling and do not feel too flimsy like you could tear them accidentally while playing on stage. The ears themselves are beautiful, Ichose the bamboo inlay and they did an amazing job, you can tell they took their time to make these things look good; no corners cut here. It is amazing that they can fit eight drivers into such a small bud, but they did.
These IEMs are masterfully crafted, high quality, long lasting, works of art. I am stunned and will not be turning anywhere else for my in ear monitor needs. It's Heir Audio!
- Colton Davy, lead singer for Murmuration
"I usually HATE in‐ear monitors with every fiber of my being. They are the bane of earnestness and expression in musical performances, and the parasite of pleasure for the musician. As a bass player, I am robbed of the ability to discern, and therefore to control, the dynamics of my instrument whenever I use in‐ears. People sometimes suggest taking one ear bud out so that I can hear the stage volume. However, any bass player who has ever used In‐ears of a moderate or low quality knows that such efforts are of no avail. The bud that remains in his ear is extremely deceiving as to the actual volume and dynamic undulation required. This has an affect like trying to paint in the dark. You might as well have a robot playing the bass; hitting all the technically correct notes with equal force and duration.
"When I first got my pair of Heir Audio IEM 8.0s, I was skeptical, to be sure. But once I tried them out in practice, all my doubts disappeared. Not only could I hear my instrument clearly, but it sounded like it was coming straight from my amp! The tone was not even far off. They communicated nearly perfect dynamic accuracy and any lack in that area was due to poor mixing in the monitors from the sound‐board, which was easily remedied. I love that I can hear all the instruments well and still hear myself, and vice versa. The buds are comfortably molded to my ears, so I don't have that weird feeling of almost subconscious aggravation throughout performances that comes with using regular plastic or rubber ear buds. I can genuinely enjoy playing music with Heir Audio buds, and whenever the opportunity to use them arises, I don't feel like hurling my wireless pack at the audience and turning the mains around."
-Darren Schrag, Bassist for Murmuration
"I truly have no 'cons' to list when describing my Heir Audio IEM 5.0s. They are made of high quality beautiful materials, they fit comfortably in my ears, and give me exactly the sound I need when it comes to both practices and performances. The design is sleek and indiscrete, so your attention is not immediately drawn to the wearers' ears. The case they come with is hardy, and makes it easy to rest assured, knowing your monitors are safe.The cord is long and strong, making it easy to thread down your shirt and into your wireless pack comfortably. I can wear the earphones for hours without them making my ears sore, as opposed to any other earphone I've ever owned. I can barely wear others for an hour at a time without pain. As an overall, they are an excellent addition to our musical experience."
-Stevie Schrag. Tambourinist and Background Singer
"I really like my Heir Audio IEM 5.0s for a lot of reasons. They're handy, fit just right (I've always had issues with keeping headphones in my ears), (surprisingly) they keep the sound fatigue down, are pretty (I stuck with a maroon color), and conveniently are easy to hide (I like the little plastic piece that I can use to tighten the in‐ears closer to the back of my head). They also look and feel really sturdy and professional—the best I've handled yet. But the best part of all is the ability for me to be able to finally hear not only everyone playing their instruments clearly, and the rhythm and tempo, but I can hear Colton and my voices clearly. I used to struggle with the same thing as Colton—we'd unconsciously be singing really loud to hear our voices over the music, and would end every day with our warmed up vocals feeling raw and useless and weak. But once the Heir Audio in‐ears showed up, I noticed immediately that my voice was feeling better, packing more power, and lasting longer. It's also really nice to know that I can sing in key, and be able to tell, instead of always hoping and guessing that I'm on the right pitch (especially for shows). Harmonizing has become so much easier. All that to say—thank you so much, Heir Audio!"
-Zara Davy, Pianist and Lead Singer
It's Heir Audio!!!
As the band stated, if you're looking for in-ear monitors or headphones, check more out at http://www.heiraudio.com/Gallery.html?page=1 
Murmuration's review can be found at http://www.heiraudio.com/news.aspx?item=31  
Murmuration Streaming On UK's Radio Hud Station
Murmuration's "Making Sound" is now currently airing on University of Huddersfield's student radio, Radio Hud, in Huddersfield, West Yorkshire, in the United Kingdom. 
"Your track 'Making Sound' really made me smile," says Richard Swales, Head of Music Radio Hud,  "and I will be on the look out for more music from you in the future. I am adding that track to the B Playlist for 2 weeks commencing 20th October… Keep making people smile with your music." 

Radio Hud is an award winning student led radio station based in the University of Huddersfield Student Central. The station hosts a wide variety of music played from 9am - 11pm weekdays.  Each year we strive to be bigger and better than ever before. Our society won the award for the most improved society of the year for 2013/2014 and we're looking forward to adding to that award this year.
Check out Radio Hud's live streaming for a wide variety of new music. 
http://www.radiohud.co.uk
Murmuration, DaMAC, Colton and Zara Headlining at Neewollah Fest
Noonday Collection Photos
Stars Would Fall Single Release and Photos
Name-Change, Single Release
Musician's Friend Interview